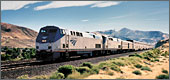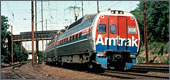 Tips for Riding Amtrak
Amtrak is a great way to travel. You get to see the country (photos & photos) and you don't get hassled by the insanity now awaiting you at airports. You meet interesting people and you cut down on your carbon footprint. Below are some tips if you are going to be traveling by Amtrak.
Make sure the conductor scans your ticket with his electronic gismo. If he fails to do so, all your connecting and/or return reservations get canceled!

If both your boarding and arriving stations have baggage service, you can check up to three 50 pound bags - check the http://www.amtrak.com web site to find out about baggage service. That way you won't have to fool with getting it/them on and off the train. But you'll need to be at your departure station at least 45 minutes before your train in order to check your bag - and an hour might be better. Doing this might delay you 5 or 10 minutes when you arrive until your bag is ready for pick up - but that's usually not a big deal.

While you are at the Amtrak web site, grab the PDF timetable for your trip (it'll have station info as well). It will be useful for estimating how late your train is running (yes, Amtrak often runs late). The current system wide timetable is also useful to have.

When you walk out to the train, the conductor(s) will tell you which car to board - not all cars' doors open at every station and on some trains 1/2 go to one station, 1/2 go to another station. If you want a window seat, ask for one then.

On many trains (especially in the West), if you don't check your luggage, when you board you'll be leaving your big suitcase downstairs and then go upstairs to where the seats are. So prepare a daypack with what you'll want at your seat.

Bring your coat upstairs with you - you can use it as a blanket while sleeping.

If you'll be sitting up overnight get an inflatable airplane pillow, it's very nice to use when sleeping. The seats recline way back, there's lots of leg room and you can make the vertical part of the seat below you extend out horizontal. So with an airplane pillow it's fairly comfortable. It's also nice to have an eyeshade mask and maybe even earplugs.

If you want to book a sleeper, do so as far in advance as possible. The sleepers often sell out and before they do, the price steadily increases. You get two beds in a roomette, even if there is only one of you. But a sleeper for a long trip is a truly wonderful experience. And all meals are included when you have a sleeper.

There are electrical outlets at all the seats, so you can recharge your computer, tablet, phone, etc. But be sure to unplug if the lights go out - like when they are switching cars in a station. The surge when the power comes back on blew out my mini surge protector once. The power going out is most likely to happen if they split/combine the train with half going to/coming from one station and half to/from another.

Some lines - especially up & down the East and West Coasts have free WiFi all along your trip. Amtrak has an official list of stations & trains with WiFi that provides more specific information. If you are not on a WiFi enabled train, at a few stations you might get WiFi while the train is stopped. But there is no point is trying until the train comes to a complete stop. Here are a few stations where I've gotten a usable WiFi connection in the past:

Albany, NY (in the station, occasionally from the train itself)
Albany, OR
Albuquerque, NM (in the station, Greyhound WiFi)
Colfax, CA
Denver, CO (in the station)
Emeryville, CA (in the station)
Eugene, OR (south end of the train only)
Flagstaff, AZ
Galesburg, IL
Glenwood Springs, CO (weak wild feed available south side of train)
Kansas City, MO
Lamar, CO (CO Welcome Center)
Malta, MT
Martinez, CA (air cloud)
Mendota, IL
Olympia/Lacey, WA (in the station)
Portland, OR (but only from cars at south end of train)
Princeton, IL
Raton, NM
Roseville, CA (maybe only east end of train - town square wi-fi)
Sacramento, CA (AmtrakConnect from nearby Capital train)
Riverside, CA
Syracuse, NY (Greyhound WiFi)
Trinidad, CO
Winslow, AZ
Worcester, MA

Many of those in the list above are just random, unprotected WiFi hotspots - they come and they go. The struckout ones I could not connect to on a subsequent trip. As usual, if you are connecting via an insecure WiFi connection, DO NOT TYPE ANY PASSWORDS unless you have a secure https connection. And even then, don't do so unless you have to. Checking gMail is usually fine, but for heavens sake don't do any financial transactions!

Also make sure your computer and any other valuables are out of sight when you leave your seat (e.g. to go to the dinning car). Usually things are pretty safe, but it's not quite as safe as an airplane! There have been incidents of theft on Amtrak. If you can lock you computer using a Kensington cable lock or something similar, then do so for your whole journey.
---
NARP's What to Expect on a Train page
Amtrak Car Diagrams
Emissions per Passenger Per KM in the UK
An excellent plan for solving the US's antiquated rail system
Leigh's Travels on Amtrak (Detailed / At-a-Glance)

---
Permalink http://leighb.com/amtraktips.htm [] Hosted by

Leigh Brasington /

/ Revised 23 July 20